Are Student Loans Modern Slavery?
---
---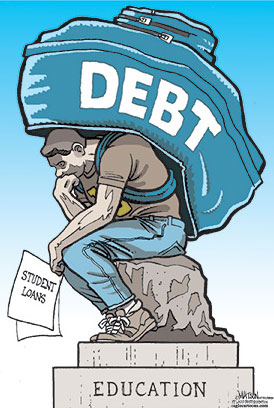 I must first give you some background on why this issue means something to me. About 2 years ago now, I along with a few other gentlemen started a non profit organization called 'The Beehive'. It was our intention to take health and see how it could be tool to reach the various and many different demographics in this world. As we set out on our endeavor over the past few years we have looked for others to join us. Ideally it would be great to have those with talents needed in today's marketplace i.e. graphic design, marketing, accounting, film production, management and more. Most of the people who excel or are at least trained in those areas are coming out of college and ready to conquer the world. We found that people wanted to join us but were enslaved to so much debt that it was impossible.
They say that the sentiment today is that most graduates would rather find a fulfilling job than a high paying miserable one. And here is where the big debt-ridden red elephant enters our discussion. The truth is that our organization as well as others have been unable to lure a great deal of these graduates due to something beyond their control at this point: DEBT.
The Bible says in Proverbs 22:7 – "The rich rules over the poor, and the borrower is servant to the lender." This could not be more true.
As a sidenote, when studying bible prophecy we see a beast in Revelation 13 that has the characteristics of the beasts of Daniel 7 i.e. the Lion-Babylon, the Bear- Medo-Persia, and the Leopard-Greece. This beast in Revelation 13 is a combination of those beasts. The primary feature described though is not it's head or feet but it's overall body and appearance. Yes it has a mouth like a lion and feet like a bear but he identifies it as a Leopard. Why is this and is there any lesson for us?
Personally I believe the reasoning for the elements described on this beast of Revelation 13 are due to characteristics that would be exemplified by the beast. The mouth like a Lion represents Babylon's characteristic of speaking boldly and forcefully and later we see a beast speaking like a dragon, similiar idea.
The second with the feet of a bear is that the greatest element of Medo-Persia was their laws. We see that from the story of Daniel in the Lion's den. Not even the king could revoke law in his kingdom.
What was the greatest feature or characteristic to come out of Greece? I believe it was their educational system. Today I would say that the beast of Revelation 13 has his primary emphasis in the way men and women, boys and girls are taught in our educational system. Think about it for a second. A child is trained with non-biblical principles from the time it is 3 in day care to the time he or she is 25 and graduating with a Masters Degree. More time is spent in a classroom than with a parent in the training years of life. Now we can see why Daniel, Moses and others were trained so diligently at a young age by their mothers.
So to bring this altogether, the United States finds itself in a situation where the entire country is in debt on an individual level as well as the country as a whole is in a debt crisis. There are many theories and realities as to how we got here but one interesting one to me is our educational system.
Did you know that student aid loans given for college and university are one of the only forms of debt in the United States that someone cannot bankrupt from and escape? This means that this debt is attached to you until you pay it off. In essence a borrower being servant (slave) to the lender. The lender in this case is the United States government that has backed the loan. The colleges are getting paid and they are happy to get as many students loans as possible. The loans are easy to get and we push higher education so it is a nice sweet picture that we are painting. This picture is even painted in Christian circles and yet Christians were to be missionaries on the earth and not slaves to a system where we are taught merely to reflect the ideas of other mens thoughts.
I know that the most innovative creative people and hard working people I can think of in this world have no formal college degree. I know in my own experience as I look back, I was trained with dated methods that were out of date the minute I graduate college.
So for the proof in the pudding, here are two articles about this issue in the news. The founder of "The University of Phoenix" which is an online educational training school is a for-profit company. They have helped students get government backed loans over the years and have been raking in the cash while students are leaving with tons of debt and can't get jobs. So the government has decided that they will no longer help this debt creation debacle unless schools can show that at least 35% of students are attempting to pay back these government loans. This means basically that perhaps University of Phoenix has been doling out degrees at the cost of the US government and not many students are paying back their loans. Some have called it another 'housing' type implosion in the making.
The founder of University of Phoenix is selling off his shares in a large part as he sees the writing on the wall and another story linked to below shows why.
Bottom Line: Education is not what we have made it. There is something far greater than getting a load of debt so that you can go join the rat race. I challenge people with students soon to enter college to rethink the entire process. Also, how can anyone find time to be a missionary or spread the gospel if trapped in a rat race where you have so much debt obligations? Some will say then what should we do "not go to school". I think debt is like a cancer and ruins lives. If saving up for it is what is needed then so be it. Shame on Christian institutions especially that allow young people to leave with so much debt. This is unbiblical and wrong. We are seeking to compete with the world and thus run down the accreditation gauntlet which has led us to where we are.
http://www.huffingtonpost.com/2011/06/02/for-profit-college-regulations-obama-administration_n_870085.html
http://www.huffingtonpost.com/2011/07/13/university-of-phoenix-founder-john-sperling-sells-stock_n_897575.html
I would love to hear your feedback on this thought provoking issue: Jared
---
---
14 Responses to "Are Student Loans Modern Slavery?"